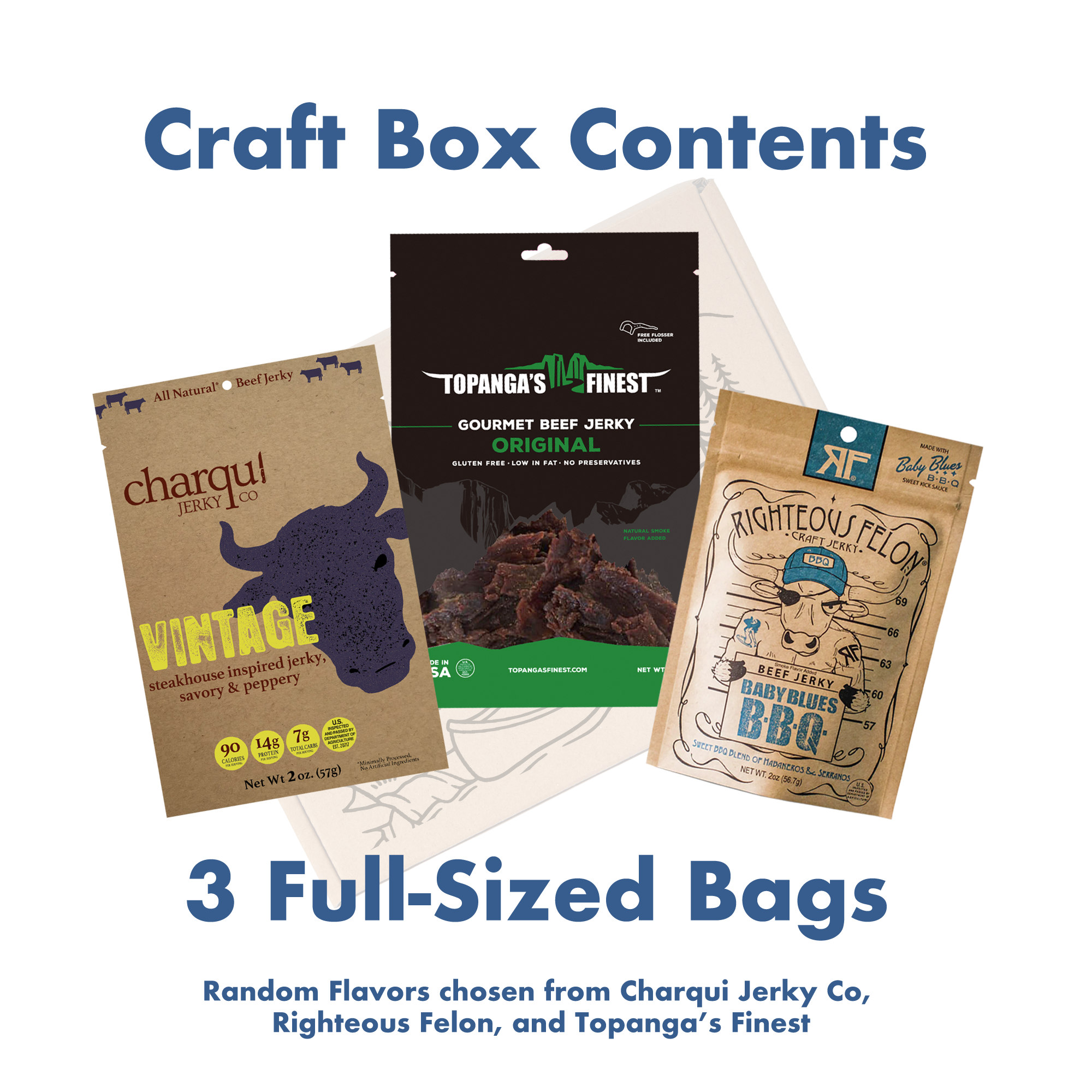 Craft Jerky Box
---
Are you ready to embark on a flavor-packed journey through the world of artisanal jerky? Look no further! Our Craft Jerky Box brings you the finest selection of jerky from three renowned brands, expertly curated by Jerky & Spice to tantalize your taste buds and satisfy your cravings. Whether you're a seasoned jerky aficionado or just beginning to explore the world of dried meat snacks, this box is sure to delight your senses.
Charqui Jerky Co: Experience the bold and adventurous flavors of Charqui Jerky Co. Their handcrafted jerky is made from premium cuts of beef, marinated to perfection, and slow-dried to preserve the rich taste. From the smoky depths of their Mesquite BBQ to the fiery heat of their Ghost Pepper jerky, Charqui offers a wide range of flavors to suit every palate.
Righteous Felon: Prepare to be blown away by the bold and rebellious flavors of Righteous Felon jerky. These self-proclaimed "outlaws of flavor" have perfected the art of crafting jerky that's anything but ordinary. From the rich and smoky taste of their Bourbon Franklin to the savory punch of their Voodoo Chile, Righteous Felon jerky will take your taste buds on a wild ride.
Topanga's Finest: For those who appreciate a touch of artisanal excellence, Topanga's Finest brings you jerky like no other. Crafted in small batches using only the highest quality ingredients, their jerky is a testament to the art of slow marination and delectable flavors. Savor the savory notes of their Black Pepper jerky or indulge in the savory sweetness of their Teriyaki blend.
Please note: Each box is unique and a one-of-a-kind experience, as it contains an assortment of randomly selected flavors from Charqui Jerky Co, Righteous Felon, and Topanga's Finest.
DO YOU WANT 10% OFF? · TEXT JOIN to 1.833.205.6234